Hello! I'm a Personal Trainer and Sports Massage Therapist based near Harome in North Yorkshire, providing 1:1 and small group training, fitness classes and sports massage treatments.We can work together face-to-face in my custom-built 'Strength & Stretch Shed', whether for fitness and strength, exercise therapy and injuries or a sports massage.
Personal Training is all about YOU! What YOU would like to achieve, what YOU would like to work on, designed to suit and benefit YOU!I will tailor a programme for you, based on your aims and ability, taking into account your lifestyle.We'll look at your strengths and weaknesses, consider any aches, pains or postural issues and use all that information to help you to progress.Together we will help you to create and lead a happy, healthy and sustainable lifestyle!
Personal Training
Sessions are 50 minutes each
Small Group Training (up to 4 people) prices start from £50 per session
---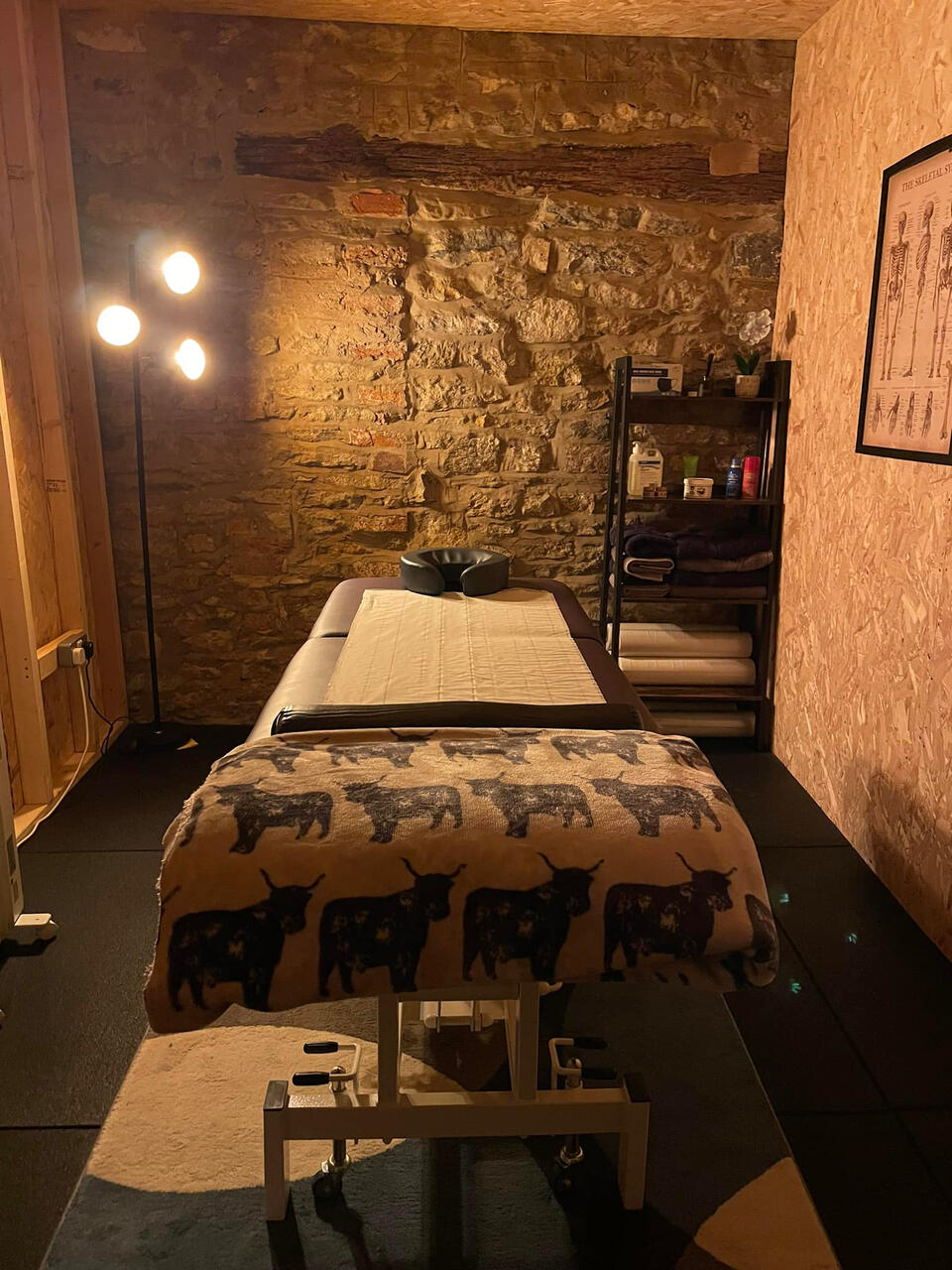 In 2021 I decided to develop my knowledge further and trained to become a Sports Massage Therapist, this has helped me to gain more of an understanding on the human body, dysfunctional movement patterns and how to programme more effectively as a Personal Trainer.Sports Massage Therapy is a hands-on approach to help ease those aches and pains by reducing muscle tension, breaking down scar tissue & adhesions (knots) to increase blood flow, develop range of movement and to encourage correct movement patterns to prevent further issues.
Sports Massage Therapy
| Sessions | Price |
| --- | --- |
| 1x | £48.50 |
| 3x | £130 |
---
All classes can be modified to suit all ages, abilities and fitness levels.
Powergise – a full body blitz! We use bodyweight exercise and dumbbells/kettlebells to build on strength and improve cardiovascular fitness. No two classes are the same!

Pilates – following the 6 Principles of Pilates you will improve posture and flexibility whilst increasing core strength, activate 'lazy' muscles and develop mobility

HIIT – kickstart your day with an energising workout, bringing up the heart rate and increasing strength!

Stretch – a full body stretch and lots of mobility work including some traditional Pilates exercises
Classes are available in person in my Strength & Stretch Shed and online via Zoom.
Classes Timetable
| Day | Powergise (SHED) | Pilates (SHED) | HIIT (ZOOM) | Stretch (ZOOM) |
| --- | --- | --- | --- | --- |
| Mon | 5:30pm | 6:30pm | – | – |
| Tue | – | – | 6:50am | 7:10am |
| Wed | 2:00pm | – | – | – |
| Thu | 8:30am, 6:00pm | 9:20am | 6:50am | 6:55pm |
| Fri | – | – | – | – |
Strength & Stretch Shed: 50 mins, £12 each or £50 for 5x sessions

Online via Zoom: 20 mins, £5 each or £40 for 10x sessions
"Gemma is such a good trainer, she pushes you as hard as you need to be pushed, but always with a smile!" – Rob T

"Gemma has the knowledge and the enthusiasm to keep you motivated and on track to achieve your personal goals." – Annie R

"Gemma is great, very supportive and wants to help each individual to achieve their own goals and targets." – Nicola S

"Gemma has kept me going with fitness and sanity through lockdown! So pleased she's been able to do the Zoom classes." – Julie C

"Love attending class with Gemma, the only class I have managed to stick to. Friendly vibes and always something different each week." – Jessica P
"Gemma is fantastic! Whether group work or one to one Gemma gives you a wealth of knowledge and experience to help you develop your fitness, maintain condition or address weaknesses or issues." – Martyn W

"Gemma is the most inspirational, supportive and enthusiastic trainer you could ever choose. If you want to lose weight and have some focus and 1:1 training then I highly recommend Gemma!" – Elaine W

"Amazing personal trainer! So motivating, loving the difference I can see in body already after my first block of PTs" – Kirsty M

"Brilliant little pocket rocket!" – Wendy B
Specialisms
I've been a Personal Trainer for over seven years and I'm passionate about keeping the body strong and stretched! No matter what your age or ability, there are progressions, modifications and adaptations that can help.
Weight Lifting – I hold a British Weight Lifting (BWL) qualification

Exercise Referral & Therapy – I can work with people to prescribe a programme safely and effectively for those with specific medical conditions, , as well as helping those following a specific injury and pain to get on the road to recovery

Pre & Post Natal – I have helped several ladies to continue training up until a week before birth and return six weeks after
Over 65 – understanding the physiological changes that the body goes through as we age and how to deliver safe exercise

Sports Nutrition – I can advise on food choices, calorie intake and habitual changes (note, I am not a dietician so cannot prescribe food plans but we can discuss options and ways to change)

Exercise to Music, Padwork, Kettlebells, Spinning, Children's Fitness & Pilates